Contact
e-mail cpp@adm.uw.edu.pl
phone +48 694 711 731
Address: Pasteura St. 7, 02-093 Warsaw
former building of the Faculty of Physics of the University of Warsaw, entrance from Banacha St.
Secretariat: room 108B, 1st floor, Secretariat working hours:
Monday-Friday, time. 09:00 – 15:00
English language consultations are held on Thursdays from 12.00 pm to 15.00 pm.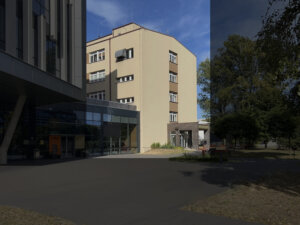 The building where the CPP UW is located,
entrance from Banacha St.