Our team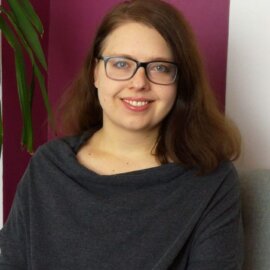 Anna Mach, PhD
Psychologist and certified psychotherapist. She completed a four-year psychotherapy training course in individual and group psychotherapy at the "Rasztow" Institute of Group Analysis, and received the Psychotherapist Certifcate and the Group Analyst Certificate. Member of the Polish Psychological Association. Graduate of the Faculty of Psychology of the University of Social Sciences and Humanities and the Faculty of Polish Studies of the University of Warsaw. Her professional experience was acquired among others at the Clinic of Psychiatry and Combat Stress of the Military Institute of Medicine, the Department of Neurotic Disorders, the XI Department of Psychiatric Rehabilitation at the Nowowiejski Psychiatric Hospital in Warsaw, the National "Blue Line" Intervention and Information Hotline for Victims of Domestic Abuse, as well as the Lambda Warsaw Association and the Emergency Intervention Shelter for the LGBT Community. She also has experience in psychotherapy work at a Centre for the Treatment of Eating Disorders. She works with adults and adolescents.
Gaya Sawicka
Psychologist, psychotherapist, graduate of the four year psychotherapeutic training at Systemic Psychotherapy Center in Cracow, recommended by Polish Psychological Association (PPA). Currently during the process of the certification at the Polish Psychological Association, she is also a member of the PPA. Graduate of Psychology at the SWPS University. Gained her professional experience during internship at the psychiatric ward of the Wolski Hospital in Warsaw and as a psychologist in Youth Sociological Center. Her work is based on the systemic and psychodynamic approach.
Renata Składanek
Psychology graduate from the University of Finance and Management in Warsaw, psychotherapist in the final year of the 4-year integrative therapy training course at the Postgraduate Medical Training Centre of the Jagiellonian University in Krakow, recommended by the Polish Psychiatric Association. Participant in training courses and workshops in behavioural and cognitive psychotherapy. She gained clinical experience in the day ward at the Tworki Psychiatric Hospital and within an internship and as a volunteer at the Lambda Warsaw Association and in the hospitals in Koszykowa Street in Warsaw and in the town of Otwock, near Warsaw. She uses schema therapy techniques in her therapy work.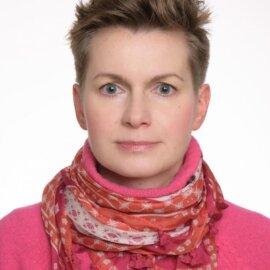 Ewa Dzienio-Stefańczyk
Social Psychology graduate of the University of Social Sciences and Humanities in Warsaw. She completed postgraduate studies in law, economics, and management in business at the University of Warsaw and developmental support of children and adolescents at the University of Social Sciences and Humanities. She is responsible for the customer services and admin at the PCC UW. In her free time, she loves a game of boules, reading crime novels, and good food, especially Italian cuisine.